Hiawassee River North Georgia Mountains

The Hiwassee River Basin contains one of the longest rivers in the southern Blue Ridge - Smoky Mountain Province. The river begins its headwaters along the northern slopes of Rocky Mountain in southern Towns County, Georgia. This often cascading river flows along its path northward before flowing into the waters of Lake Chatuge then continuing its journey westward across far western North Carolina, gathering its water twice more into the lake and channel waters of Lake Hiwassee and Lake Appalachia. From there the river crosses the southeastern Tennessee state line before exiting the mountains into the Great Tennessee River Valley below.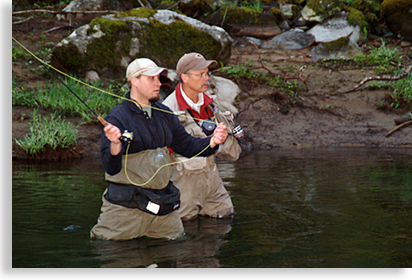 Though the Hiwassee River flows freely across the southern region of Towns County, and is both picturesque and ideal for fly-fishing, majorities of the river's banks is along private property and not open to public fishing. You can have the opportunity to fish on these private sections of the river by booking a professional fishing guide, attending a private fishing campsite, or obtaining personal permission from property owners along the river. Whether you hire a pro or have permission to fish on your own, you must purchase a fishing permit.
Guides have access to the best spots and that's what it's all about. The good news is that once the river waters are gathered into the lake its pretty well open season for licensed fishing persons looking to cast their lines.
Convenient fishing along the lake's shoreline where public access is available can be located at Jackrabbit Mountain Recreation Area or below the dam along TVA controlled property.
If you would like to book with a professional fishing guide for local fly-fishing or lake fishing, you can contact Great Mountain Retreats.
Use the Links below to discover your special interests...
The Communities within Towns County
Waterways in Towns County
Fun, Recreation & Adventure
Scenic Road Trips
---
designed, produced and hosted by
The Blue Ridge Highlander logo, all photography, design, graphics, artwork, writing, digital images, etc are the
Copyright ©
of C. Wayne Dukes and Sherry Bell Dukes. 1996 to current day, except where otherwise stated. All rights reserved, reproduction, downloading, and/or duplication of any sort is strictly prohibited, all violations will be prosecuted.
Legal Policy
. If you have any questions, or comments, regarding this site,
e-mail the Highlander
.