Hiawassee in the North Georgia Mountains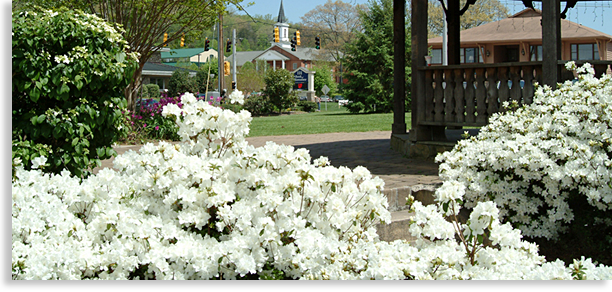 The town of Hiawassee in Towns County, Georgia is the only actual lake front town in the interior of the North Georgia Mountains. The town was originally incorporated in 1870 as Hiwassee, a Cherokee name for, "the river that flowed across the valley floor." Later the town was re-incorporated as Hiawassee; the letter "a" was added to the name in 1956. Hiawassee is the county seat of Towns County. The original courthouse was completed in 1857 and replaced in 1905. The current courthouse located adjacent to the town square was constructed in 1964.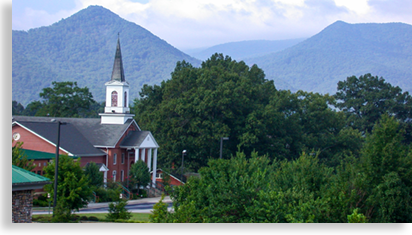 The town began to take on a different character than was originally intended when the Tennessee Valley Authority constructed the Chatuge Dam in the 1940's creating the beautiful crystal sky blue waters of Lake Chatuge. The town of Hiawassee, which originally stood near the banks of the Hiwassee River, has since shaped itself along the eastern shoreline of the lake.
Overshadowing the town of Hiawassee along the southern mountain ridge is the towering summit of Brasstown Bald, marking the highest point in the North Georgia Mountains. Due to the town's lake front mountain setting, Hiawassee has become an oasis to tourists, vacation homeowners and newly relocated folks looking for that special place of recreation and leisure living within a magnificent setting.
What you'll find in the town of Hiawassee and neighboring areas are a nice selection of lodgings, fine dining and excellent eateries, galleries, specialty shopping, entertainment as well as indoor amusements.
If you're looking for nearby outdoor adventure there's camping, fishing, hiking, mountain biking, waterfalls both big and small, horseback riding, boating, skiing, swimming plus a championship golf course open to the public. If you're an adventurous spirit looking for something more thrilling such as white water rafting, kayaking, guided fly fishing or zip-line-canopy tours you can find them within a short distance away by contacting Great Mountain Retreats.
Another premier advantage in Towns County is its own renowned Georgia Mountain Fairgrounds, a centerpiece for fun, entertainment and festivals along with Anderson Music Hall showcasing major headline talents, a museum and historic buildings and structures. The unique fairground setting cradles a section of Lake Chatuge's shoreline.
The town of Hiawassee along the shores of beautiful Lake Chatuge is by far one of the most enjoyable, entertaining and rewarding destinations in the Blue Ridge Smoky Mountains.
Use the Links below to discover your special interests...
The Communities within Towns County
Waterways in Towns County
Fun, Recreation & Adventure
Scenic Road Trips
---
designed, produced and hosted by
The Blue Ridge Highlander logo, all photography, design, graphics, artwork, writing, digital images, etc are the
Copyright ©
of C. Wayne Dukes and Sherry Bell Dukes. 1996 - 2018, except where otherwise stated. All rights reserved, reproduction, downloading, and/or duplication of any sort is strictly prohibited, all violations will be prosecuted.
Legal Policy
. If you have any questions, or comments, regarding this site,
e-mail the Highlander
.