Georgia Mountain Fairgrounds& Historic Towns County
Located along a section of Lake Chatuge's shoreline and centered within Towns County's Georgia Mountain Fairgrounds is a historic village and fairway opened to the public during festivals and events. Within this historic village setting, visitors will also find a museum offering a wealth of historical exhibits, displays and mountain crafts. The historic structures throughout the village (intertwined with festival booths) come alive during festivals and events with live demonstrations of the arts, crafts and skills performed by mountain artisans. Here visitors will find historic cabins, a school house, a barn, an operating blacksmith shop, a working saw mill, a giant waterwheel and mill house, a smokehouse that is still in use and other significant historic structures, plus there's an operating "moonshine still" demonstrating the making of distilled spirits practiced by their ancestors.
Each July the fairgrounds host the ever-popular "Georgia Mountain Fair," a gala of everything a fair can be and much, much more. The fair features music, history, exhibits and demonstrations, as well as fairways of arts, crafts and food vendors with live entertainment both on the fairway and in the Anderson Music Hall. Plus there's the annual Carnival and often-available live animal displays and a petting zoo that rounds out this two-week long summer event.
The Fall Festival is an explosion of color, fun and music that takes place each October, with artisans displaying their arts and crafts along with the Anderson Music Hall being packed to the rafters with guest, entertainers and groups performing throughout the day and into the evening. The Fall Festival is also features Georgia's Official State Fiddlers' Convention.
The setting for these special events within and around the historic village lies under a shaded forest, a woodland village so hospitable you just can't wait for the next fairground event. Only the ball fields where the carnival is held and parking area are mostly non-shaded.
One feature the fairground's offers is the greater world of entertainment presented live at the Anderson Music Hall located at Georgia Mountain Fairgrounds. Throughout the year the fairgrounds host top name artist from Country Music's award winning performers. This sizeable hall and stage seats 2,900 and is often sold out according to the greater popularity of the performing talent, so check out the Highlander's event calendar and purchase your tickets early.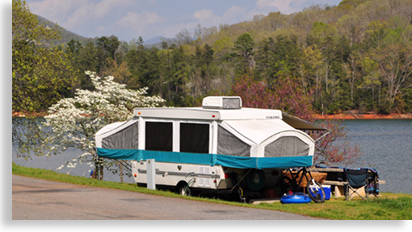 Another feature at the fairgrounds is its excellent campgrounds, public boat launch, tennis court, showers, electricity, telephone, cable service and adjacent public beach featuring a sand beach, bathhouse, playground, picnic pavilion and several bench swings.
The beach at Georgia Mountain Fairgrounds is part of the park system and open free to the public.
Also located at the top of Georgia Mountain Fairgrounds, Hwy 76 W, Hiawassee Georgia and open to the public throughout the year, is the Hamilton Gardens at Lake Chatuge.
These gardens along the wooded shoreline in a upper east corner of the fairgrounds contains one of the largest collections of hybrid Rhododendrons in the State of Georgia. A Blooming Affair at Hamilton Gardens will take place over 6 weekends from mid April to mid May, check the Highlander Calendar for this year's event. The Hamilton Gardens at Lake Chature have plant sales every Saturday and Sunday from 10 am - 3 pm.
The Garden is open from 8:00 am to 8pm. If you have any further questions you can call 706.970.0011 or email info@hamiltongardens.org, or www.hamiltongardens.org. Hamilton Gardens is a 501©3 non-profit organization..
Use the Links below to discover your special interests...
The Communities within Towns County
Waterways in Towns County
Fun, Recreation & Adventure
Scenic Road Trips
---
designed, produced and hosted by
The Blue Ridge Highlander logo, all photography, design, graphics, artwork, writing, digital images, etc are the
Copyright ©
of C. Wayne Dukes and Sherry Bell Dukes. 1996 to current day, except where otherwise stated. All rights reserved, reproduction, downloading, and/or duplication of any sort is strictly prohibited, all violations will be prosecuted.
Legal Policy
. If you have any questions, or comments, regarding this site,
e-mail the Highlander
.