Scenic Driving Tours in Towns County North Georgia Mountains
You could say most mountain roads and scenic byways are often one and the same to roadway armrest enthusiast. Yet when you get to know the natural landscape, you start picking cherries by means of mountain views and natural wonders. Designated scenic byways and driving tours can consolidate these wonders into an organized road trip that will get you the most bang out of your driving adventure budget, and bring you into contact with the hidden treasures that lay within the mountains natural beauty. Listed in the points of interest below are two favored road tours with one tour passing through Towns County from one end to another (east to west), and a second road trip that loops the fringes of three counties taking advantage of neighboring wonders and well as Towns County's own natural wonders.

Southern Highroads Trail
This scenic drive (don't let the word "Trail" fool you); is a section of the Southern Highroads Trail that passes thru Towns County along US 76 from one end of the county to the other from east to west, or vise-versa. The entire scenic roadway tour is a 364-mile loop drive. The trip across Towns County is roughly 30-miles, beginning at one mountain gap and ending at another.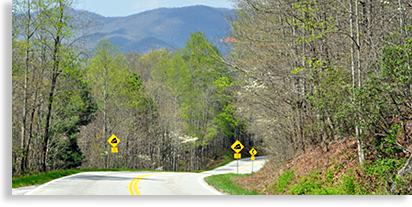 The Southern Highroads Trail travels its entire loop across North Georgia, then onto a shorter section of Up Country South Carolina, then across far southwestern North Carolina to a shorter section of southeastern Tennessee before reconnecting back in Georgia.
The Southern Highroads Trail crosses mountain gaps and valley floors, traveling through narrow gorges along rushing white-water rivers. All the while journeying thru historic towns and beautiful countryside.
Whether you prefer to take the short scenic drive thru the heart of Towns County or the longer trip along the Southern Highroads Trail, this scenic route offers some of the most beautiful mountain and valley areas in the southern Blue Ridge Mountains.
While traveling thru Towns County, surveying sights for our Blue Ridge Highlander's, Mtn Top Georgia Mobile App, Mrs. Highlander and I recently witness famed actor, director and academy award winner, Clint Eastwood, filming a scene for his movie "Trouble with the Curve." The filming was of a road scene that was along a section of the Southern Highroads Trail in eastern Towns County. We saw Clint, sitting in a late model convertible sports car behind a filming truck, he sat up on the back of the sports car seat and was giving direction to the cameraman. In another scene, we watched the film crew temporarily posting a North Carolina State sign along the roadside. The backdrop was western Towns County's Upper Hightower region of North Georgia, not North Carolina...that's Hollywood.

Russell Brasstown Scenic Byway
Located in the southern mountainous regions of Towns County's Blue Ridge Mountains, and forming a scenic drive loop is the Russell Brasstown Scenic Byway.
In my personal opinion this is a four star, 40.6-mile, 360-degree view of what the wilderness lands of central North Georgia's Chattahoochee National Forest, has to offer in all its glory. Tall mountains with endless vistas, rushing creeks and waterways, an abundance of waterfalls, miles and miles of hiking trails including the southern most section of the Appalachian Trail. Camping, biking, fly fishing, picnics, natural wildlife, and wildflowers all reside in a land where mysterious ancient Native American legends of other worldly beings tell their tales and show their wares in a mountain setting like none other.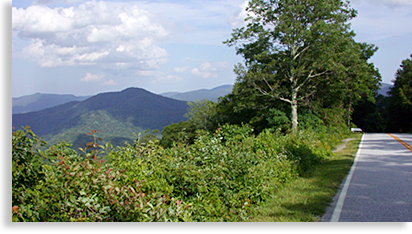 The Russell Brasstown Scenic Byway takes in more natural wonders per mile than any other scenic route in North Georgia. This route will take visitors from the depths of the valleys to the heights of the tallest most accessible mountain in Georgia. Though beautiful to behold, the steep climbs and descents along the routes paved 2-lane and often 3-lane roadways, can be a little intimidating to some inexperienced mountain drivers. Yet it's a paradise roadway to others that are familiar with the curves and up and downs of mountain highways.
For those with less mountain driving skills, its advised to take your time, pull over when you can do so safely, so that you can see the sights or just let the pushy traffic behind you pass you by. Also when going down steep slopes its sometime advisable to take the transmission gear shift out of over-drive, and place it into drive or second gear to avoid excessive brake usage. Also, don't let your vehicle exceed the speed limit to avoid constant braking. A couple of trips over the mountain and you'll soon be a local pro-driver of skill, or at least more experienced.
This 40.6-mile scenic drive follows four roadways creating a loop. These four roadways are the GA Highway 17/75 to ALT 75, GA Highway 348 to GA Highway 180, plus the access roadway to the top of Brasstown Bald just off of GA Highway 180. Please drive safely and have a great time.
Use the Links below to discover your special interests...
The Communities within Towns County
Waterways in Towns County
Fun, Recreation & Adventure
Scenic Road Trips
---
designed, produced and hosted by
The Blue Ridge Highlander logo, all photography, design, graphics, artwork, writing, digital images, etc are the
Copyright ©
of C. Wayne Dukes and Sherry Bell Dukes. 1996 to current day, except where otherwise stated. All rights reserved, reproduction, downloading, and/or duplication of any sort is strictly prohibited, all violations will be prosecuted.
Legal Policy
. If you have any questions, or comments, regarding this site,
e-mail the Highlander
.