Lake Chatuge in the North Georgia Mountains
Framed by towering mountains surrounding its distant shores and mirroring the blue skies above with its clear mountain waters, Lake Chatuge has all the aesthetics of a natural made wonder. Yet in contrast to its original unique setting, it's the man-made lake that has transformed this once remote river valley in the central North Georgia Mountains into a water paradise for fun, recreation and beauty.
Lake Chatuge, constructed by the Tennessee Valley Authority (TVA) in the 1940's for the purpose of flood control and utility power is one of the larger open bodies of water in the Blue Ridge Smoky Mountains region, with 128-miles of shoreline and an additional 4-miles of island shoreline. Lake Chatuge is divided at its center by the state lines of Towns County, Georgia and Clay County, North Carolina. Lake Chatuge consists of 3,500-acres in Towns County Georgia and 3,700-acres in Clay County North Carolina.
Where Lake Chatuge rests today was once a magnificent hidden valley dotted with homes, churches and family farms often located along or near the banks of the Hiwassee River. During the lake's early construction it was necessary for homes, schools, churches and grave sites to be moved out of harms way or left to the destruction of the gathering river water and its many creeks and streams flowing down from the high mountains surrounding the lake. The upheaval of families was difficult for some of Towns County's early residence and an opportunity for others looking for a fresh new start beyond the horizon.
Though the lake does operate under the management of TVA as a utility lake and flood control, the majority of the shoreline is privately owned and laced with picturesque summer homes and full time residences. Outside its natural beauty the lake's most popular attraction is water recreation offering fishing, boating, sailing, skiing and jet skiing, along with swimming and sunning at its sandy beaches.
Camping in designated areas along the lake's wooded shoreline is available along with excellent local or shoreline lodging. Several designated picnic areas and numerous boat launches plus two marinas are also available.
When it comes to hiking there are several quiet wilderness trails along the lake's shoreline, as well as one trail that's very popular with mountain bikers located Jackrabbit Mountain Recreation Area just north of the town of Hiawassee. Lake Chatuge Trail & Recreation Area offers the advantage of a low impact wooded shoreline trail. Then there's the impressive low impact trail thru Hamilton Gardens located at the Georgia Mountain Fairgrounds, displaying an impressive 3,000 Rhododendron plants, the largest collection in the State of Georgia. The gardens are open free of charge most of the year with a small 3 dollar fee during the Rhododendron Blooming Season. There is a donation box available for maintaining the gardens by the local Lions Club for year round guests.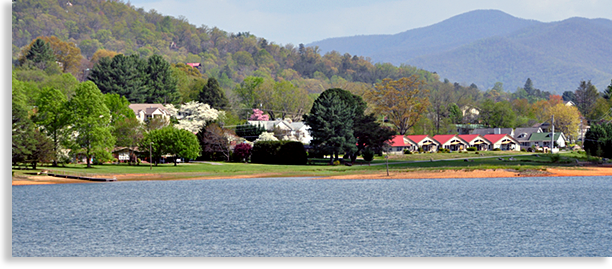 The resort town of Hiawassee located along the eastern shoreline of Lake Chatuge takes pride in accommodating all the comfort and needs for vacationing guest and local residents. The renowned Georgia Mountain Fair is also ideally located next to the town of Hiawassee offering events, festivals, and live-entertainment at its Anderson Music Hall. There is also a museum depicting mountain life, arts and crafts along with historical structures located in a wooded area within the fairgrounds as well as campsites and a boat launch ramp.
Today, Lake Chatuge is a destination unto itself, drawing visitors annually to its shorelines and open waters. By far Lake Chatuge is a wonder in its making and a magnificent sight to behold and enjoy by folks of all ages.
Use the Links below to discover your special interests...
The Communities within Towns County
Waterways in Towns County
Fun, Recreation & Adventure
Scenic Road Trips
---
designed, produced and hosted by
The Blue Ridge Highlander logo, all photography, design, graphics, artwork, writing, digital images, etc are the
Copyright ©
of C. Wayne Dukes and Sherry Bell Dukes. 1996 to current day, except where otherwise stated. All rights reserved, reproduction, downloading, and/or duplication of any sort is strictly prohibited, all violations will be prosecuted.
Legal Policy
. If you have any questions, or comments, regarding this site,
e-mail the Highlander
.