Appalachian Trail • Benton MacKaye Trail • Duncan Ridge Trail
For those who love to hike, there are miles and miles of trails to hike in the National Forest in and around Fannin County. Two legendary trails are the Benton MacKaye Trail and the Appalachian Trail. These two renowned trails will take hikers into the very heart of God's Country.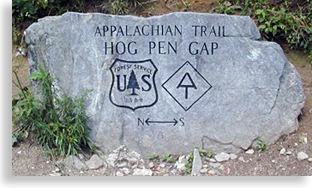 The world famous Appalachian Trail cuts through the extreme southern end of Fannin County on its long 2,000-mile plus journey from Springer Mountain Georgia to Maine's Mount Katahdin. This is a lifetime adventure for the big hiking-backpackers that want the whole adventure, yet day hikers can also access the trail at most junctions where the trail and highways cross, then exit at one of many other roadway accesses in the North Georgia & North Carolina Mountains depending on how long and far you want to hike.
The Benton MacKaye Trail named after the regional planner who envisioned the Appalachian Trail, begins at Springer Mountain as well. This trail also travels over steep mountains for 90 miles to the border of Tennessee at Highway 64 offering the same feel of the Appalachian Trail yet not as long. When completed The Benton MacKaye Trail is expected to travel a 250-mile loop sharing sections of the Appalachian Trail as well. The Benton MacKaye Trail and Duncan Ridge Trail share the same path at this access point just of GA 60; note that parking is limited. Benton MacKaye This trail is named after Benton MacKaye the "Father of the Appalachian Trail".  There are numerous points along the trail that are accessible form roadways and forest roads.
Duncan Ridge Trail extends along Duncan Ridge from Fannin through Union County's Chattahoochee National Forest. The trail is accessible from several roadways and forestry roads.
In addition these combined trails converging at GA 60 also offers an access point along a bumpy forestry road that leads to the famed swinging bridge that's suspended over the Toccoa River.
There are quite a few other trails in Fannin County to check out. You can get maps to the trails by going into Fannin County Welcome Center at 152 Orvin Lance Drive, right off Hwy 515 in Blue Ridge, Georgia. Hikers can also get detailed information from the Blue Ridge District, 2042 Highway 515 West Blairsville, Georgia 30512, 706-745-6928.
---
---
---
---