Lake Blue Ridge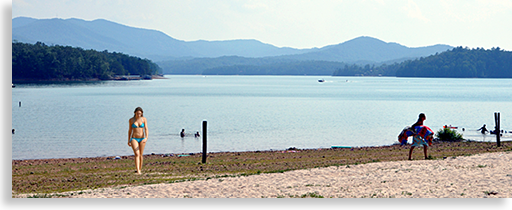 The crystal blue waters of Lake Blue Ridge are a jewel sitting within a mountain backdrop. With 3,290-acres of liquid fun awaiting visitors, vacation homeowners and full time residents, it is one of the more premier bodies of water in the North Georgia Mountains. The Chattahoochee National Forest encompasses about 80% of the shoreline with the remaining 20 to 25% privately held. There are 90 National Forest campsites, several boat ramps for public access, public swimming and numerous picnic areas.
Lake Blue Ridge is a public lake and offers access to boating, jet skiing, kayaking, swimming and fishing fun for all that enjoy getting a little wet in the lake's refreshing waters. Sportsmen and women cast their lines and test their skills in hopes of hooking up with the lake's plentiful inhabitants such as walleye, small mouth bass, white-pass, bluegill, yellow perch, channel catfish and flathead catfish.
The lake was created from the waters of the Toccoa River by the construction of the Blue Ridge Dam near the edge of the town of Blue Ridge in 1930. The dam was originally constructed by the Toccoa Electric Power Company and was later purchased by the Tennessee Valley Authority (TVA) in 1939 for hydroelectric power production.
Morganton Point Recreation Area overlooking the sky blue waters of Lake Blue Ridge offers 37 campsites, 13 picnic tables and a shelter with access to swimming, fishing and a boat launch and a sizable beach head with a lifeguard on duty during the summer camping season. This site is one of the broadest and most beautiful views of the waters of Lake Blue.
---
---
---
---