The Great Outdoors in Fannin County Georgia
Mountains create springs that form tributaries and creeks which shape rivers that form lakes both large and small, natural and man-made yet it is the natural forest that holds these bodies of water together giving life to the waterways and all that dwell within them. This liquid silver from the mountains and heavens offers refreshment to the numerous wildlife that reside throughout the region along with a playground of fun and recreation for the whole family.
Chattahoochee National Forest

From the dense high forest and mountain headwaters of the southern reaches of Fannin County to the vast mountain wilderness lands along the northeastern region of the county, the Chattahoochee National Forest encompasses more than 40% of the county. There is a total of over 100,000-acres of high country rolling out from the southern reaches of Fannin County and along the western border of the county with numerous mountain top altitudes ranging from 1,760 feet to 4,000 feet above sea level at the Cowpen Range.
In its entirety the Chattahoochee National Forest of the North Georgia Mountains covers 749,689-acres and is managed by six ranger districts. It includes 37 developed recreation areas, 500 developed campsites, 200 picnic sites, 6 swim beaches and 530-miles of hiking and biking trails. Chattahoochee National Forest is a wilderness paradise, awaiting those that seek to leave the world of congestion and stress behind and enjoy a place that we often forget exists.
District Ranger Stations Serving the Fannin County Area
Blue Ridge District Office:
2042 Highway 515 West Blairsville, Georgia 30512
Phone: 706-745-6928.
Open Monday-Friday 8:00 a.m. to 4:30 p.m.
Closed 11:30 a.m. to 12:30 p.m.
Cohutta Wilderness Area
Tucked away in the northwestern corner of Fannin County and rolling into neighboring Gilmer County Georgia and across the state line into Tennessee is the Cohutta Wilderness Area, one of the largest wilderness areas in the eastern United States. This 36,977-acre wilderness is part of an even greater 95,265-acre Cohutta Wildlife Management Area that harbors multiple mountain peaks, miles of hiking trails, forestry roadways, remote small hidden valleys, mountain wildlife and the Jacks and Conasauga Rivers. Just across the state line dividing the vast Cohutta Wilderness is the infamous Ocoee River George.
Hidden away in the remote upper reaches of the Cohutta Wilderness, located at 3,150 feet, near the top of Grassy Mountain is Lake Conasauga, the highest lake in Georgia.
Under the management of the National Forest Service this wilderness now thrives after the devastating logging that stripped more than 70% of its forest between 1915 and 1930. Remnants of a rich history lies hidden away within these mountains if you dare to look for it, yet it is the natural essence of this wilderness that has once again returned to this mountainous region drawing adventurers into its thick canopy of new growth forest.
Unlike the ancient Blue Ridge Mountains that lie along the southern reaches of Fannin County, this northwestern region of mountains within the Cohutta Wilderness is more akin to the Unaka Mountain ranges of the Smokies, in both age and development.
Thanks to the Civilian Conservation Corps (CCC) founded in the 1930's during the great depression, the Cohutta Mountain Wilderness as well as all mountain wildernesses and National Forestry lands throughout the Blue Ridge Mountain Province have become accessible to the public by way of the forestry roads, trails and stone structures that provide shelter, offering an adventurous public a way into of out of these treasured wilderness and forestry areas. A great debt of gratitude goes to this forestry army of laborers, craftsmen and engineers. Through the efforts of the CCC and the Franklin D. Roosevelt administration these cherished mountain lands have been restored and returned to the people of our great nation to enjoy for generations to come.
Rich Mountains
The Rich Mountains in the southern high country of Fannin County, part of the ancient Blue Ridge Mountain range is likely the most popular and inhabited mountainous region in the county. There is an abundance of cabins and homes scattered throughout and along the fringes of the Rich Mountain's 13,276-acres of forestry lands along with a paradise of trails, waterways, waterfalls and great trout fishing.
The famed north flowing Toccoa River finds it headwaters in this beautiful high mountain area as it works its broad passage around river bends and over its cascading white waters before it spills into the beautiful shoreline of Lake Blue Ridge.
Fishing, kayaking, canoeing and tubing along the Toccoa River Canoe Trail are popular recreations and sports here in Fannin County's southern high country. The riverbanks along the Toccoa River are often lined with cabins and vacation homes adding to the picturesque diversity of the Rich Mountain Wilderness. Hiking and mountain biking along the Stanley Gap and Green Mountain Trails take back country visitors into a private world of lush forest, cascading streams and waterfalls, a place lost in time where remnants of old-growth forest still resides. The largest gold nugget ever found in Georgia was discovered in this mountainous region.
Aska Adventure Area
Within the rich pristine and primitive world of the Rich Mountains is the Aska Adventure Trails Area. Just south of Blue Ridge in Fannin County at Deep Gap is the Aska Trail, a 17-mile hiking and biking trail that ascends to 3,200-ft offering beautiful views of mountain ridges and Lake Blue Ridge below.
Cooper Creek Scenic Area
This scenic wildlife and water management area of 1,240-acres within a total of 34, 000-acres offers an old growth forest area, trout stocked steams for fishing, numerous hiking and biking trails along with canoeing (water levels must be considered.)
Seventeen campsites are available at the Cooper Creek Recreation Area accommodating tents or trailers up to 22-feet plus 11 campsites at Cooper Creek's Mulky Campground (open late March thru October 31.) Both campgrounds have drinking water and sanitary facilities. Forestry road scenic drives include Loop Drive, Mulky Gap Drive and Fanny Gap Drive.
The Towns in Fannin County
Waterways in Fannin County
The Arts
Recreation & Adventure
Scenic Road Trips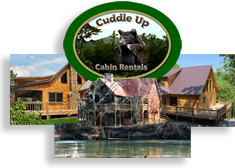 Cuddle Up Cabin Rentals
offers many vacation rental cabins which allow you to experience a little piece of heaven every time you visit. Our private luxury cabins provide a getaway retreat for couples, families and friends who love nature and the outdoors. Cuddle Up Cabin Rentals manages these
privately owned luxury cabin rentals
, all of which are located within minutes of Blue Ridge, Georgia and the beautiful Ocoee River and Toccoa River.
224 Blue Ridge Dr • McCaysville, GA • 877.628.3353 • www.CuddleUpCabinRentals.com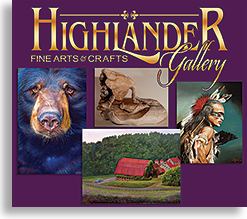 When you are visiting the Blue Ridge - Smoky Mountains, a stop by the
Highlander Gallery is well worth your time
. The Highlander Gallery represents some of the finest artists in the mountains. With a large assortment of Fine Art Photography and Fine Crafts as well.
Here are a sampling of the artists you will find....Anthony Abreu • John Mac Kah • Ruthanne Kah • Michael Bedoian • Keith Moore • Juanita Greenspan • Robert Levin • Tonya Fowler • Jason Fowler • Jo Kilmer • Les Smith • Chuck Waldroup • Joe Waldroup • Billy Reynolds • Bob Crisp • Thomas Payne • Sarah Long Dauchez • January Tiberius • Frances McCord • Rita Poole • Clive Poole • Richard Cranford
Wednesday - Saturday 10:00 - 5:00
10079 Old Highway 64 • Brasstown, NC • 828.835.9982 • www.HighlanderGallery.com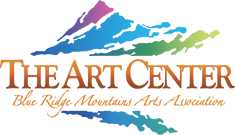 ---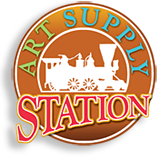 ---
Horseback Riding Near the Ocoee River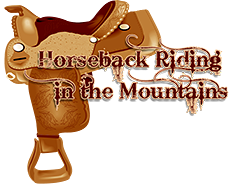 Sit tall in the saddle for a leisure ride through the beautiful scenery of the Blue Ridge Mountains. Professional outfitter with over 35 years experience. Our safety record is unsurpassed in the industry. We believe our staff is simply the best in the business. Guides are chosen for their character and enthusiasm for sharing the outdoors with you.
Call today to start your adventure...828-835-3275 • GreatMtnAdventures.com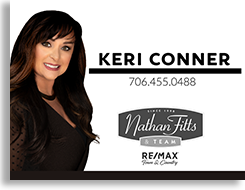 My name is Keri Conner, I have lived in these mountains all my life, and have been a successful Realtor since 2001. I know from personal experience why you want your own special place in the mountains and I know how to help you find that special place. Whether you are looking for a luxury mountain home, log cabin, a view property, river or creek property, a lake front home or property, or a large tract of mountain property, I will help you not only find the right real estate purchase, I will help you through the entire real estate process, including closing. If you are looking to sell your mountain home, to downsize or are finally ready to buy your new bigger dream home or cabin, I am the Realtor/Broker you need.
Check out our Featured Listings....
224 Blue Ridge Drive, McCaysville, GA • 706-964-6470 • RealEstateGeorgiaMountains.com
---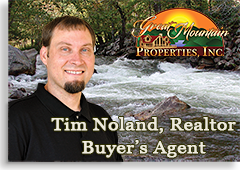 When looking to buy mountain property, you need someone that not only understands the mountains, you need someone that specifically represents you, the buyer. When you choose to work with a
Buyer's Agent
you are assured that you have an agent that is truly looking for your best interests, someone that will not only find what you are looking for, but someone that will negotiate the best price possible.
10886 Old Highway 64 • Brasstown, NC 28902 • 828.557.1009 •  GreatMtnRealEstate.com
---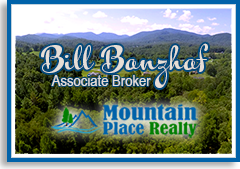 As an
agent who's an expert in homes for sale in North Georgia, North Carolina & Tennessee
, I bring a wealth of knowledge and expertise about buying and selling real estate in this gorgeous part of the south. Buying a new home or a new piece of land is not the same everywhere, so you need someone you can trust for up-to-date information.
Whether you're looking to purchase a year-round, luxury-style log home, buy a part-time residence for use during your getaway vacation, or prefer to use your property as a vacation rental, I am eager to serve you. Check out my Featured Listings...
11 Overview Drive, Suite 102 • Blue Ridge, GA 30513 • Mobile 706-851-5865
Office 706-946-1520 •  HomesinBlueRidge.com
designed, produced and hosted by
The Blue Ridge Highlander logo, all photography, design, graphics, artwork, writing, digital images, etc are the
Copyright ©
of C. Wayne Dukes and Sherry Bell Dukes, 1996 to current day, except where otherwise stated. All rights reserved, reproduction, downloading, and/or duplication of any sort is strictly prohibited, all violations will be prosecuted.
Legal Policy
. If you have any questions, or comments, regarding this site,
e-mail the Highlander
.