Rivers, Waterways, Waterfalls and Fishing
Fannin County is a crisscross maze of waterways from babbling springs to rushing creeks to roaring rivers. The Toccoa River, Rock Creek, Coopers Creek and Noontoola Creek are considered regional waterways that hold the characteristics required for anglers to find big trout.
Toccoa River
The Toccoa River flows through the very heart and length of Fannin County. Above Lake Blue Ridge the Toccoa River is stocked with trout regularly. Below the dam the catching is usually plentiful. Many anglers like to float-fish from the dam downstream to McCaysville. Water levels can rise suddenly, you would be advised to check the dates and times for water releases from Blue Ridge Dam at 800-238-2264 before your trip.
The land along the many waterways in the county are either privately owned or under the National Forest's management and you'll need to understand which land is which if you intend to access the waterways.
National Forest System lands are open to camping, hiking, fishing, and picnic activities. However, you are responsible for removing all trash you create.
Fishing is allowed on segments of the Toccoa River where one or both sides are National Forest System Lands, provided anglers are legally licensed and comply with all state fishing regulations. Otherwise you must obtain permission from private property owners to access the river or even fish from a boat, should it be privately owned on both sides of the river.
The local forestry office can help you with that info, Toccoa Ranger District, 6050 Appalachian Highway, Blue Ridge, GA, 706-632-3031.
The Swinging Bridge over Toccoa River
This 265 foot long bridge is the longest swinging bridge east of the Mississippi River. Just south of Skeenah Gap Road along GA 60 is a forestry road and trail crossing for the Benton MacKaye and Duncan Ridge Trail. The forestry road is located along the west side of GA 60. To reach the swinging bridge you can follow this rough and bumpy forestry road for three miles and park at the end of the road.
In 1976 the Forest Service, along with the Georgia Appalachian Trail Club replaced a dangerous ford of the Toccoa River in this area. The bridge, built by a private contractor, was completed in 1977 and has become a landmark in Fannin County and a popular camping spot in the Blue Ridge Wildlife Management Area.
A hike from the parking area to the swinging bridge and Toccoa River takes about 5-minutes and is moderate in difficulty to hike.
Horseshoe Bend Park on the Toccoa River
Neighboring the town of Mineral Bluff is Horseshoe Bend Park located along the beautiful waters of the Toccoa River. This excellent riverside park is within a natural setting adding to the essence and wonder of this riverside experience.
A large pavilion filled with tables, grills located close by and a nearby playground make this setting perfect for group gatherings and reunions. Yet it's the river access that draw visitors along its banks whether they're fishing from dry land, wadding deep in its smooth flowing water or just gazing at the sunset glistening off its water.
This park is perfect for use as a launch or takeout for tubing, canoe adventures or small fishing boats.
Deep Hole Access to the Toccoa River
Located along the bank of the Toccoa River with 8 campsites for small trailers or tents, restrooms and drinking water. This is an ideal location for a canoe launch and has fishing access. A wooden deck along the riverbank overlooks a deep hole in the river giving this location its namesake.
Shallowford Bridge
Located along Aska Road in the small mountain community of Due in Fannin County, is the Shallowford Bridge. This section near the bridge is a popular river access for fishing, tubing and canoe takeout.
Doublehead Road Canoe Launch
This is one of the most scenic canoe launch areas along the upper Toccoa River and easily accessed just off GA 60 along Doublehead Road.
Doublehead is a paved roadway to the bridge and the river's edge, approximately and mile or so from GA 60
Jacks and Conasauga Rivers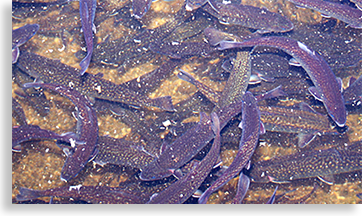 Both the Jacks and Conasauga Rivers flow through the Cohutta Wilderness Area. Even though they are on public lands, they are fairly remote and only accessible by unpaved forestry roads. Other popular fishing areas are Shallowford Bridge, Tammen Park and Horseshoe Bend Park. The Georgia Department of Natural Resources publishes a comprehensive trout-fishing guide to Georgia, available at the Fannin County Welcome Center.
If you're a real fish lover, you can visit the Chattahoochee National Fish Hatchery located at the extreme southern end of the Fannin County and Union County border near the Deep Hole and Coopers Creek recreation areas.
This is a great experience for the whole family especially those young, future great fishing guys and gals. The hatchery is located between the towns of Morganton and Dahlonega along Highway 60.
Fall Branch Falls & other Fannin County Waterfalls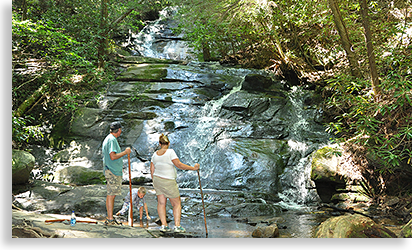 If you prefer hiking along waterways to fishing there are numerous waterway trails throughout the county that offer access to stunning waterfalls and cascading streams, great photo opportunities for hikers throughout the National Forest in Fannin County. The names of several of these popular waterfalls are Long Creek Falls, Fall Branch Falls, Sea Creek Falls and Jacks River Falls.
---
---
---
---