Menu

Blood Mountain Wilderness

The United States Congress designated the Blood Mountain Wilderness in 1991. This wilderness area consist of 7,800-acres within North Georgia's Chattahoochee National Forest overall 749,550-acres.
The highest point and centerpiece of this wilderness area is Blood Mountain standing at 4,458-feet above sea level. Within this designated area are scenic overlooks, rugged mountain peaks, rocky outcropping, rushing creeks, streams, waterfalls, logging roads and numerous trails. The two most popular trails which transverse through these wild lands are the Appalachian and Duncan Ridge Trail, both idea for backpacking.
Black Bear encounters as well as sighting of other natural wildlife animals are common to the region. For more information regarding Black Bears you can refer to the Blue Ridge Highlander's feature stories on Black Bears located in the magazine section.
Sosebee Cove Scenic Area
Sosebee Cove is a quiet mountain cove in the Blood Mountain Wilderness along GA/180 between Vogel State Park and Lake Winfield Scott. This heavily wooded cove of hardwood timber is a memorial to Arthur Woody, the first regional Forest Service Ranger who served the area from 1911 to 1945. Ranger Woody was instrumental in negotiating the purchase of the local Sosebee's Cove property for the Forestry Service.
Sosebee Cove's 175-acres, are a forested jewel of rare wildflowers and ferns, along with dutchman breeches, waterleaf, squirrel corn and other species. The Cove's forest consists of several types of hardwoods including yellow birch, and a rare yellowwood tree. A short 'point 3-mile' trail, consisting of two link loops is accessible from the parking area alongside the roadway. A salamander rich branch flows through the scenic cove as well as a second-growth yellow poplar tree stand that began its towering growth after the last heavy logging, in the region. Near the beginning of the trail is one of the coves largest hardwood trees, reminiscent of some of the large trees in the Joyce Kilmer Memorial Forest. This young giant tree can be easily viewed from the roadway parking area when looking towards the left, or very short stroll along the beginning of the trail for an up close look. Along the opposite side of the roadway is an excellent example of a high-altitude boulder field, most viewable during the late fall-winter season when heavy foliage has depleted.
Wilderness Areas & Trails
Community Resources
History & Culture
Lakes, Rivers & Waterfalls
Parks & Recreation Areas
Scenic Road Trips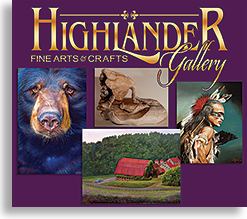 When you are visiting the Blue Ridge - Smoky Mountains, a stop by the Highlander Gallery is well worth your time. The Highlander Gallery represents some of the finest artists in the mountains. With a large assortment of Fine Art Photography and Fine Crafts as well.
Here are a sampling of the artists you will find....Anthony Abreu • Michael Bedoian • Juanita Greenspan • Linda Thompson • Tonya Fowler • Jason Fowler • Chris Jones • Les Smith • Chuck Waldroup • Joe Waldroup • Billy Reynolds • Randy Rowe • Thomas Payne •  Frances McCord • Rita Poole • Clive Poole • Marla McCormick • Don Milsaps
Wednesday - Saturday 11:00 ish - 5:00 ish
10079 Old Highway 64 • Brasstown, NC • 828.835.9982 • www.HighlanderGallery.com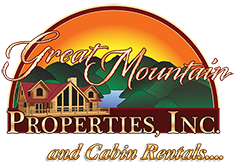 Whether you purchased your mountain home as an occasional getaway, an investment, or the destination of your future retirement, we realize the importance that it be respected as your home first and foremost.
It is our objective to provide you with both quality property management as well as a rental program to help offset some of the expense of owning a 2nd home. Through the combined knowledge of all of us at Great Mountain Cabin Rentals, we have the expertise to help you understand and create a Great Mountain Cabin Rental.
896 Green Cove Road • Brasstown, NC 28902 • 828.835.3275 • www.GreatMountainCabinRentals.com
---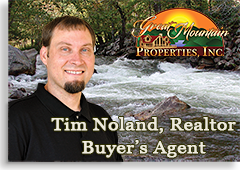 When looking to buy mountain property, you need someone that not only understands the mountains, you need someone that specifically represents you, the buyer. When you choose to work with a Buyer's Agent you are assured that you have an agent that is truly looking for your best interests, someone that will not only find what you are looking for, but someone that will negotiate the best price possible.
10886 Old Highway 64 • Brasstown, NC 28902 • 828.557.1009 •  GreatMtnRealEstate.com
---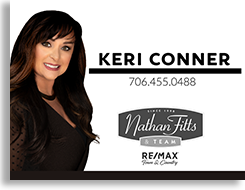 My name is Keri Conner, I have lived in these mountains all my life, and have been a successful Realtor since 2001. I know from personal experience why you want your own special place in the mountains and I know how to help you find that special place. Whether you are looking for a luxury mountain home, log cabin, a view property, river or creek property, a lake front home or property, or a large tract of mountain property, I will help you not only find the right real estate purchase, I will help you through the entire real estate process, including closing. If you are looking to sell your mountain home, to downsize or are finally ready to buy your new bigger dream home or cabin, I am the Realtor/Broker you need.
Check out our Featured Listings....
224 Blue Ridge Drive, McCaysville, GA • 706-964-6470 • RealEstateGeorgiaMountains.com
designed, produced and hosted by
The Blue Ridge Highlander logo, all photography, design, graphics, artwork, writing, digital images, etc are the
Copyright ©
of C. Wayne Dukes and Sherry Bell Dukes, 1996 to current day, except where otherwise stated. All rights reserved, reproduction, downloading, and/or duplication of any sort is strictly prohibited, all violations will be prosecuted.
Legal Policy
. If you have any questions, or comments, regarding this site,
e-mail the Highlander
.