Nottely River in Union County Georgia
Beginning in the upper reaches of the Chattahoochee National Forest in the south central mountainous regions of Union County along the Eastern United States, Western Continental Divide is Nottely River. The watershed of its headwaters follows a steep path down the mountains before entering the fertile valley and pasture-lands of central Union County. This is gold-county a land once laden with creeks sparkling with gold washed down from the gold quarts along the steep slopes of the mountain interior. Gold can still be found here by enthusiastic gold seekers who have a knack and a touch of gold fever, yet it's the Nottely River and its tributaries that now sparkle with mountain trout just waiting for the opportunity to latch onto line and sinker or the draw fly fishermen or women's lure.
The Nottely River's gentle current flows across the valley lands of Union County working its way northward grazing the historic mountain town of Blairsville before filling the shoreline of Lake Nottely. Lake Nottely and its many channels journey across the north central section of Union County and are popular with fishing persons and boating recreation. With so many channels Lake Nottely seems endless with miles and miles of shoreline with many quite coves to fish and explore before the lake breaks open into a much larger expanse of deep lake water, a great destination for bass fishing water skiing and leisure boating.
Lake Nottely is not a year round Recreation Lake, it's a utility lake created by the TVA, Tennessee Valley Authority. During the winter the lake is mostly void of water, what's interesting is that the Nottely River reemerges as it follows the lowest path through the bottom of the lake, giving life back to the river's full length claiming its original route for the winter season each year.
Leaving Lake Nottely Dam behind Nottely continues winding northward crossing the state line and entering North Carolina's Cherokee County. A short journey thru Cherokee County delivers the waters of Nottely River into Lake Hiwassee were Nottely River joins hands with the Hiwassee River in the Nantahala National Forest. From the waters and shore line of Lake Hiwassee you get the feeling of being lost deep in the Western North Carolina mountains due to its locked away position behind high ridges and steep mountains. The historic mountain town of Murphy in Cherokee County lies near the southeastern edge of the lake just beyond the Hiwassee River Gorge, the town is not at all visible from any part of the lake or major roadways, isolated in seclusion just off the beaten path. You're going to want to keep your fishing gear handy the many channels on Lake Hiwassee are idea for dropping a line. Nottely River is not a long river just a great river in a popular mountain region.
Wilderness Areas & Trails
Community Resources
History & Culture
Lakes, Rivers & Waterfalls
Parks & Recreation Areas
Scenic Road Trips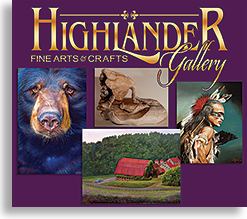 When you are visiting the Blue Ridge - Smoky Mountains, a stop by the Highlander Gallery is well worth your time. The Highlander Gallery represents some of the finest artists in the mountains. With a large assortment of Fine Art Photography and Fine Crafts as well.
Here are a sampling of the artists you will find....Anthony Abreu • Michael Bedoian • Juanita Greenspan • Linda Thompson • Tonya Fowler • Jason Fowler • Chris Jones • Les Smith • Chuck Waldroup • Joe Waldroup • Billy Reynolds • Randy Rowe • Thomas Payne •  Frances McCord • Rita Poole • Clive Poole • Marla McCormick • Don Milsaps
Wednesday - Saturday 11:00 ish - 5:00 ish
10079 Old Highway 64 • Brasstown, NC • 828.835.9982 • www.HighlanderGallery.com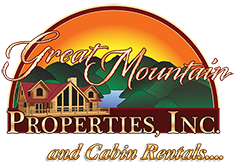 Whether you purchased your mountain home as an occasional getaway, an investment, or the destination of your future retirement, we realize the importance that it be respected as your home first and foremost.
It is our objective to provide you with both quality property management as well as a rental program to help offset some of the expense of owning a 2nd home. Through the combined knowledge of all of us at Great Mountain Cabin Rentals, we have the expertise to help you understand and create a Great Mountain Cabin Rental.
896 Green Cove Road • Brasstown, NC 28902 • 828.835.3275 • www.GreatMountainCabinRentals.com
---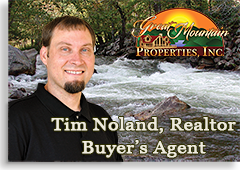 When looking to buy mountain property, you need someone that not only understands the mountains, you need someone that specifically represents you, the buyer. When you choose to work with a Buyer's Agent you are assured that you have an agent that is truly looking for your best interests, someone that will not only find what you are looking for, but someone that will negotiate the best price possible.
10886 Old Highway 64 • Brasstown, NC 28902 • 828.557.1009 •  GreatMtnRealEstate.com
---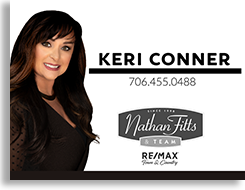 My name is Keri Conner, I have lived in these mountains all my life, and have been a successful Realtor since 2001. I know from personal experience why you want your own special place in the mountains and I know how to help you find that special place. Whether you are looking for a luxury mountain home, log cabin, a view property, river or creek property, a lake front home or property, or a large tract of mountain property, I will help you not only find the right real estate purchase, I will help you through the entire real estate process, including closing. If you are looking to sell your mountain home, to downsize or are finally ready to buy your new bigger dream home or cabin, I am the Realtor/Broker you need.
Check out our Featured Listings....
224 Blue Ridge Drive, McCaysville, GA • 706-964-6470 • RealEstateGeorgiaMountains.com
designed, produced and hosted by
The Blue Ridge Highlander logo, all photography, design, graphics, artwork, writing, digital images, etc are the
Copyright ©
of C. Wayne Dukes and Sherry Bell Dukes, 1996 to current day, except where otherwise stated. All rights reserved, reproduction, downloading, and/or duplication of any sort is strictly prohibited, all violations will be prosecuted.
Legal Policy
. If you have any questions, or comments, regarding this site,
e-mail the Highlander
.