Trackrock Archaeological Site
Legends and folklore, mysteries and myths, science and speculation can't completely explain the ancient encrypted carvings on large boulders located at the Track Rock Archaeological Area.
The Track Rock Gap Archaeological Area is in the North Georgia's Chattahoochee National Forest just below Brasstown Bald along Union County's eastern border. This archaeological site lies in a low gap between two mountain ranges and is easily accessed along Trackrock Road just off US/76 East. The roadway travels right next to the archaeological site and Trackrock Trail.
Trackrock Road, which passes over the gap next to the site, is part of an ancient Native American trade route that traveled from north to south through the mountains. This site and trade route is estimated to have been in use since 1,000 AD; some speculate that the site and trade route are several thousands years old.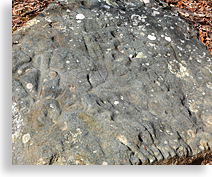 There are six major boulders at the site covered in encrypted carvings along with several other smaller stones scattered about the site that appear to have some type of carvings. These primitive carvings depict ancient symbols of human and animal forms, plus what might be described as spirit beings. These carving were created at different times and not all at once. Each set of carvings appears to tell a story, or possibly a type of ritual.
Whatever the mysteries at Track Rock Archaeological Area are, is all up to speculation since the stones speak a language that archaeologists as well as the native Cherokee haven't been able to decipher, as of yet. Symbols may coincide with native legends yet their meanings are too uncertain. The Blue Ridge Highlander believes each visitor to the site can decide for themselves as to their nature and purpose.
Newly added to the site is an interpretive area alongside the main boulders. What's been removed from the site are the old protective grated cages that covered some of the larger boulders, often visually obstructing the carvings though providing adequate protection from earlier vandalism and theft.
---
---