Menu

Duncan Ridge Trails
Duncan Ridge Trail (blue blazed) is 20.4-miles long and rated strenuous in trail difficulty. Named after the mountain range Duncan Ridge, which is the longest continuous ridgeline leading off the main Blue Ridge Mountain Range in North Georgia. The trail terminus begins at its furthest western point at Slaughter Mountain, heading westward through Wolf Pen Gap, then crosses Coosa Bald and onto Mulky Gap, intersecting with Benton MacKaye Trail just over the county line. This guide offers three access points to Duncan Ridge Trail within Union County via paved highways or unpaved forestry roadway for the most convenient trail access.
Duncan Ridge Trail access from Neel's Gap to Slaughter Mountain by way of the Appalachian Trail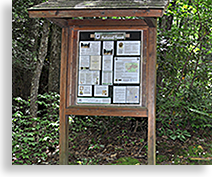 This is the most convenient access to the west end terminus of Duncan Ridge Trail (blue blazed). There is no parking available to hikers at Neel's Gap's Walasi-Yi Interpretive Center. A parking area is located to the north along US/19/129 just below Neel's Gap at the Byron Herbert Reece Memorial. The Byron Herbert Reece Memorial Trail (also blue blazed) connects to the Appalachian Trail then climbs westward to the summit of Blood Mountain, a total of about 2-miles. The Appalachian Trail (white blazed) continues westward to Slaughter Mountain where the west terminus for the Duncan Ridge Trail begins. This route is suggested for experienced overnight backpackers only. Trail Rating: strenuous in difficulty
Wolf Pen Gap and Duncan Ridge Trail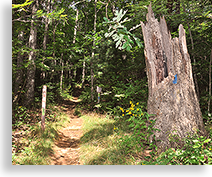 Wolf Pen Gap at 3,260-feet above sea level, is located along GA/180, between Vogel State Park and Lake Winfield Scott Recreation Area. Wolf Pen Gap offers access to the Duncan Ridge National Recreation Trail. Duncan Ridge Trail (blue blaze) is considered a 'long trail' and strenuous in difficulty. The trail extends along the upper Duncan Ridge from south central Union County, to the County's far western edge. Duncan Ridge is the single longest mountain ridgeline leading off the main Blue Ridge Mountain Range. At Wolf-Pen Gap, Duncan Ridge Trail can be accessed along both sides of the roadway with ample parking. An unpaved forestry road next to the western access leads into Coopers Creek Wilderness Area. At the gap the trailhead westward leads into the Coopers Creek Wilderness Area. The trailhead leading eastward travels through the Blood Mountain Wilderness Area. Trail Rating: strenuous in difficulty
Mulky Gap and Duncan Ridge Trail
Mulky Gap Road is paved to the entrance of the Chattahoochee National Forest. At this point the roadway is unpaved, steep and often a rough vehicle climb up to Mulky Gap. The Duncan Ridge Trail (blue blazed) crosses Mulky Gap Road and is accessible on either side of the roadway. Parking is fairly limited. This access point works well for either day hikes or overnight backpackers. Trail Rating: strenuous in difficulty
Wilderness Areas & Trails
Community Resources
History & Culture
Lakes, Rivers & Waterfalls
Parks & Recreation Areas
Scenic Road Trips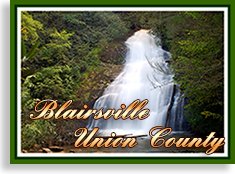 Blairsville and Union County, Georgia: Full of festivals and fun, waterfalls, mountains, syrup, and sweet memories. Spring and summer outdoor lovers will hike endless trails, see breathtaking views atop Brasstown Bald, visit rushing waterfalls, and relax on serene Lake Nottely.
129 Union County Recreation Rd • Blairsville, GA • 706.745.5789 • VisitBlairsvilleGA.com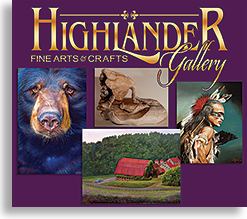 When you are visiting the Blue Ridge - Smoky Mountains, a stop by the Highlander Gallery is well worth your time. The Highlander Gallery represents some of the finest artists in the mountains. With a large assortment of Fine Art Photography and Fine Crafts as well.
Here are a sampling of the artists you will find....Anthony Abreu • John Mac Kah • Ruthanne Kah • Michael Bedoian • Keith Moore • Juanita Greenspan • Robert Levin • Tonya Fowler • Jason Fowler • Jo Kilmer • Les Smith • Chuck Waldroup • Joe Waldroup • Billy Reynolds • Bob Crisp • Randy Rowe • Thomas Payne • Sarah Long Dauchez • January Tiberius • Frances McCord • Rita Poole • Clive Poole • Richard Cranford
Wednesday - Saturday 10:00 - 5:00
10079 Old Highway 64 • Brasstown, NC • 828.835.9982 • www.HighlanderGallery.com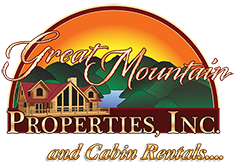 Whether you purchased your mountain home as an occasional getaway, an investment, or the destination of your future retirement, we realize the importance that it be respected as your home first and foremost.
It is our objective to provide you with both quality property management as well as a rental program to help offset some of the expense of owning a 2nd home. Through the combined knowledge of all of us at Great Mountain Cabin Rentals, we have the expertise to help you understand and create a Great Mountain Cabin Rental.
896 Green Cove Road • Brasstown, NC 28902 • 828.835.3275 • www.GreatMountainCabinRentals.com
---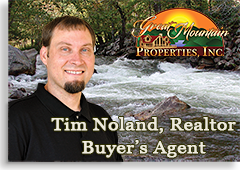 When looking to buy mountain property, you need someone that not only understands the mountains, you need someone that specifically represents you, the buyer. When you choose to work with a Buyer's Agent you are assured that you have an agent that is truly looking for your best interests, someone that will not only find what you are looking for, but someone that will negotiate the best price possible.
10950 Old Highway 64 • Brasstown, NC 28902 • 828.557.1009 •  GreatMtnRealEstate.com
---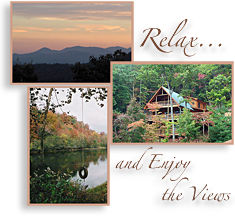 We are happy to help you with all of your real estate needs.  We offer mountain log cabins, view property, river and creek property, lake front homes and property and large tracts of North Georgia Mountain Property.   The Blue Ridge Mountains are fast becoming one of the most desired second home markets anywhere in the US. The North Georgia Area provides the beauty of the Appalachian Mountains, Toccoa and Ocoee Rivers, and Lake Blue Ridge.
224 Blue Ridge Drive, McCaysville, GA • 706-964-6470 • RealEstate-NorthGeorgia.com
designed, produced and hosted by
The Blue Ridge Highlander logo, all photography, design, graphics, artwork, writing, digital images, etc are the
Copyright ©
of C. Wayne Dukes and Sherry Bell Dukes. 1996 - 2020, except where otherwise stated. All rights reserved, reproduction, downloading, and/or duplication of any sort is strictly prohibited, all violations will be prosecuted.
Legal Policy
. If you have any questions, or comments, regarding this site,
e-mail the Highlander
.