Union County Community Center & Butternut Creek Golf Course
Located at 129 Union County Recreation Road, this facility is a reflection of the continual community effort towards establishing a presence of excellence and quality in the North Georgia Mountain region. Stately in architectural design and structure, the Union County Community Center's 23,500-square feet, offers an atmosphere unlike any other in regards to spaciousness, opulence and comfort. Perched upon a hilltop, the Center overlooks a mountain vista and a challenging 18-hole public golf course. The first tee is located only steps away from the Union County Community Center's clubhouse facilities. Also featured at the Community Center, overlooking the golf course is a magnificent metal sculpture by local renowned artist Al Garnto.
The Union County Community Center is also home to the Blairsville - Union County Chamber of Commerce and Welcome Center. The Chamber's office, located within its grand welcoming hall, provides the friendly helpful service one should expect when visiting this state of the art center. Visitor's can gather a mountain of material in the comfort of a lounge style setting while planning their visit, or dream of relocation and retirement within the boundaries of beautiful and adventurous Union County.
The Union County Community Center offers meeting and banquet facilities for any occasion, small to large.
Contact the Community Center at 706-439-6092 or email ucevents@uniongov.com for more information on having your next meeting or event at this beautiful facility.
Butternut Creek Golf Course
Lace up your spikes, polish up those clubs, grab that bag and mount up a golf cart. You have some serious golfing available at the Butternut Creek Golf Course.
While looking down the fairway at the first tee, most folks often don't know what to do first, grab a club or pullout the camera. This course has an outstanding backdrop view of the Ivy Log Mountain Range. What's great about this 18-hole golf course is that it's open to the public. Even better than that, the Union County Community Center is located along the upper end of the course, next to the first tee, providing excellent club house facilities within.
The Butternut Creek Golf Course, owned and operated by the Union County Recreation Department, offers a challenging 18-hole golf course, composed of Penncross Bent Grass greens, and Tifton 419 Bermuda fairways and tees.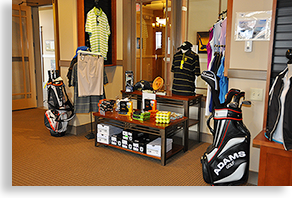 The course plays to a modest 6,500 plus yards, with 4 to 6 tee boxes on every hole offering a challenging option for every player. Elevation changes are found throughout the course and there are 13-holes where water comes into play.
The Union County Community Center has a clubhouse atmosphere with beautifully styled locker rooms, including a game table in the men's locker room.
Within the Union County Community Center is Butternut Creek Tourism/Pro Shop, and located upstairs within in the center is The View Grill, offering a spectacular view of the course and mountains beyond. Also located in the Center is a banquet hall and conference rooms making it a great wedding, reunion, and corporate event facility.
For more information and to book a golf outing, call 706-439-6092.
Pro Shop Hours: 8:00 a.m. - 4:00 p.m.
Tee Times: 8:00 a.m. - 5:00 p.m
---
---