Georgia Mountain Research and Education Center
This superb 415-acre property has been set aside for agricultural research, development and education, lies within the rolling foothills and farm lands in south central Union County. The Center is a branch of the University of Georgia's Department of Agriculture. The Center's focus is on the area's bio-diverse nature of the Southern Appalachian Ecosystem, and how they can contribute to the survival of a great variety of plant species with properties suitable for medicinal, craft and culinary uses.
The Georgia Mountain Research and Interpretive Center saw its' beginning in 1935 as the Jarrett Apple House & Orchards. Previously known as the historic Christa's Farmhouse built in 1898. Today, gracing the front yard of the historic farmhouse, is a first-rate herb garden and informational kiosk.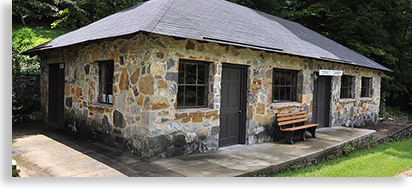 There are other historic structures at the Research Center; like the stone Community Cannery Interpretive Center, constructed in 1935. This building was renovated in 2009 and serves as a Visitor Center and classroom.
Additional featured structures are; a restored Spring House, a rustic outdoor amphitheater, a picnic pavilion and tables, an enclosed food preparation building, a stone outdoor fireplace with extended stone curved seating, a large green house and barn facility, the administration office and other out buildings.
Of the many special features at the Center, is the Georgia Mountain Ethno-Botanic Gardens and Woodland Medicine Trail. Many of the wild plants found in these two gardens were saved from the destructive forces of regional development projects.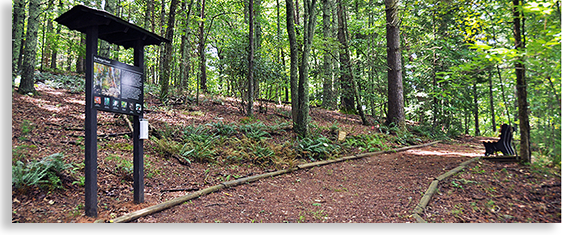 The Woodland Medicine Trail is a 1/4-mile loop through a typical lower elevation Appalachian forest. At the beginning of the trail is a rustic outdoor amphitheater for guided group tours. Along the trail there are woodland wildflowers, herbs, ferns and shrubs. Of the many plants and medicinal herbs encountered along the trail, the endangered Lady Slippers, a plant species that finds a home here, nurtured by the woodland surroundings and rich soil. These delicate plants are native to local soil, climate and elevation and cannot be transplanted in other geographical regions (they won't survive). Lady Slippers are a unique beauty to behold and photograph, normally they are found only in the wild.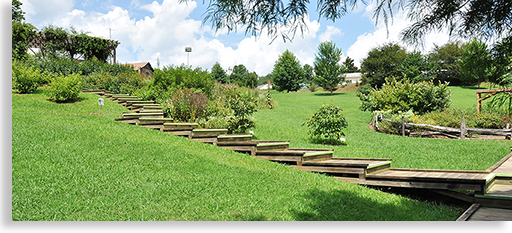 The Ethno-Botanic Garden is located across from the Woodland Trailhead. The colorful wild flowers in the garden flourish, basking in the sunlight along the southern slope of a hill, while those needing more moisture thrive along the creek and in the bog garden. The plants contained in the garden are the types harvested and often cultivated by early regional inhabitants for a variety of medicinal, food, and craft uses. Upon entering the garden setting one passes through a covered trail-bridge crossing a small creek leading to a wooden deck trail. Crossing the covered bridge leaving the gardens, visitors will notice on the left rail a rustic birdhouse, push the button and it will tell you the story of the gardens. The platform trail travels either to the left, or right, then up the slope of the hill with individual terrace gardens located along the slope of the hill.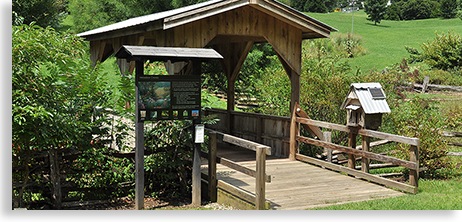 The trail to the left also follows along the creek bank to a bog area. Bogs, or spring seeps, as they are also known, are mountain wetlands created on creek or stream floodplains, forming a unique water garden of wild plant life, a favorite to butterflies. The trail to the right also follows the creek to a bench swing fitted with covered roof. A wooden deck trail leads up the hill slope to a large vine covered trellis, fitted with benches.

Another fine feature located at the Ethno-Botanic Garden, the Woodland Trail, and Jarrett Apple House & Herb Garden, are several informational kiosks, displaying a colorful mixed media rendition of each site and scene, created by local artist Zoe Schumaker.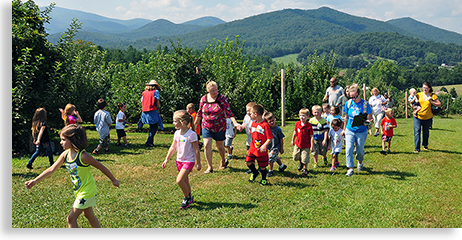 Throughout the Georgia Mountain Research and Education Center are additional gardens, a large apple orchard, and small vineyard. These research areas are only occasionally open to the general public. Each September the orchards host a 'Johnny Apple Seed Event,' opened to local schools for kindergarten children.
The Center offers educational programs for children and adults. Guided tours of the Ethno-Botanic Garden and Woodland Medicine Trail are offered every Monday from 9 am to 1 pm (May through September) except on holidays. Special group tours are available by appointment only.
For more information about these programs, email pbsgator@windstream.net.
Georgia Mountain Research and Education Center
195 Georgia Mountain Experiment Station Road • Blairsville, GA 30512
706.745.2655
Wilderness Areas & Trails
Community Resources
History & Culture
Lakes, Rivers & Waterfalls
Parks & Recreation Areas
Scenic Road Trips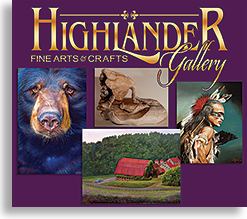 When you are visiting the Blue Ridge - Smoky Mountains, a stop by the Highlander Gallery is well worth your time. The Highlander Gallery represents some of the finest artists in the mountains. With a large assortment of Fine Art Photography and Fine Crafts as well.
Here are a sampling of the artists you will find....Anthony Abreu • Michael Bedoian • Juanita Greenspan • Linda Thompson • Tonya Fowler • Jason Fowler • Chris Jones • Les Smith • Chuck Waldroup • Joe Waldroup • Billy Reynolds • Randy Rowe • Thomas Payne •  Frances McCord • Rita Poole • Clive Poole • Marla McCormick • Don Milsaps
Wednesday - Saturday 11:00 ish - 5:00 ish
10079 Old Highway 64 • Brasstown, NC • 828.835.9982 • www.HighlanderGallery.com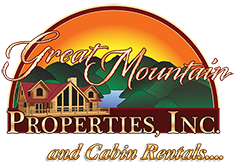 Whether you purchased your mountain home as an occasional getaway, an investment, or the destination of your future retirement, we realize the importance that it be respected as your home first and foremost.
It is our objective to provide you with both quality property management as well as a rental program to help offset some of the expense of owning a 2nd home. Through the combined knowledge of all of us at Great Mountain Cabin Rentals, we have the expertise to help you understand and create a Great Mountain Cabin Rental.
896 Green Cove Road • Brasstown, NC 28902 • 828.835.3275 • www.GreatMountainCabinRentals.com
---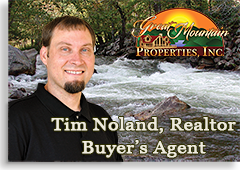 When looking to buy mountain property, you need someone that not only understands the mountains, you need someone that specifically represents you, the buyer. When you choose to work with a Buyer's Agent you are assured that you have an agent that is truly looking for your best interests, someone that will not only find what you are looking for, but someone that will negotiate the best price possible.
10886 Old Highway 64 • Brasstown, NC 28902 • 828.557.1009 •  GreatMtnRealEstate.com
---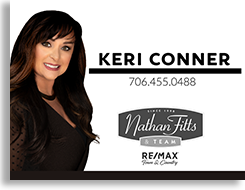 My name is Keri Conner, I have lived in these mountains all my life, and have been a successful Realtor since 2001. I know from personal experience why you want your own special place in the mountains and I know how to help you find that special place. Whether you are looking for a luxury mountain home, log cabin, a view property, river or creek property, a lake front home or property, or a large tract of mountain property, I will help you not only find the right real estate purchase, I will help you through the entire real estate process, including closing. If you are looking to sell your mountain home, to downsize or are finally ready to buy your new bigger dream home or cabin, I am the Realtor/Broker you need.
Check out our Featured Listings....
224 Blue Ridge Drive, McCaysville, GA • 706-964-6470 • RealEstateGeorgiaMountains.com
designed, produced and hosted by
The Blue Ridge Highlander logo, all photography, design, graphics, artwork, writing, digital images, etc are the
Copyright ©
of C. Wayne Dukes and Sherry Bell Dukes, 1996 to current day, except where otherwise stated. All rights reserved, reproduction, downloading, and/or duplication of any sort is strictly prohibited, all violations will be prosecuted.
Legal Policy
. If you have any questions, or comments, regarding this site,
e-mail the Highlander
.