Menu

Union County Community Working Together....Union County Farmers Market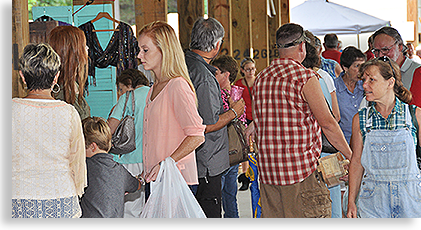 On the eastern edge of Blairsville, located on Old Smoky Road just north of Hwy 515/76, is the very popular Union County Farmers Market. The Market is located within an excellent elongated outdoor, covered pavilion protecting vendors and shoppers from the elements of rainy weather and hot sunlight.
There's ample parking and room for 65-vendors under the large roofed pavilion, offering visitors access to local growers of various sizes. Vendors display varieties of fresh produce, along with canned foods, bake goods and beekeeper's honeys. There are also several concessionaires and handmade crafts by local artisans, plus plants and flowers for gardens and home. These choice products draw shoppers from both near and far to enjoy the wonderful opportunity of purchasing home grown and handmade products.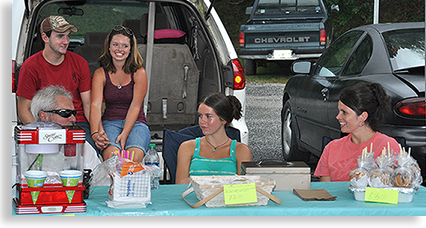 This popular Farmers Market is much more than a place to buy particular items; it's a destination for fun, and education for all ages. Most vendors often share their skills with the public on how their particular produce is grown, and how handcrafted items are made.
The site of the Union County Farmers Market lies on the old Charlie and Grapelle Wimpey property. Both were active members of the Union County Historical Society, Charlie farmed the property with his father, and Grapelle served as Union County Elementary Principle for 46-years.
The Farmers Market is open June thru October
Tuesday from 3:00 p.m. to 7:00 pm • Saturday 7:00 am to 1:00 pm
148 Old Smokey Road • Blairsville, GA 30512 • www.UCFarmersMarket.com • 706.439.6000
Union County Cannery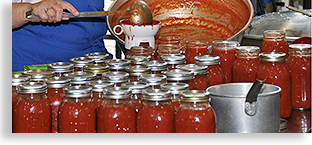 A cannery has existed in Union County since 1947, and was originally operated and maintained by the Union County School System. As many as five family generations, have used the old cannery until recently, when the school budget cuts, caused the old cannery to be shut down.
Fortunately, the County successfully budgeted for a new cannery with new equipment to be opened next to the Union County Farmers Market, on Old Smokey Road.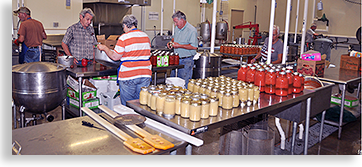 This new facility has become a 'pride of joy' to the local community. When the cannery is open (also known as the Canning Plant), courteous visitors are welcome to come in and see how it works. During production hours, friendly folks are on hand working their craft and often willing to answer your personal inquires.
Situated out in front of the Cannery alongside the roadway, is a lovely colorful garden consisting of domestic flowers, wildflowers, and some herbs. This garden is nurtured and maintained by local volunteers. The Community Garden is a most proper exhibit for both visitors and horticulture enthusiast to observe, enjoy and photograph.
Union County Cannery
148 Old Smokey Road • Blairsville, GA 30512 • 706.439.6030 • www.UCFarmersMarket.com/cannery.html
---
---