Union County Georgia Lakes
The mountains, lakes and pristine waterways make Union County so special.  Lake Nottely lies in the central northern end of the county. This man-made lake constructed by the Tennessee Valley Authority forms a 4,180-acre utility lake. The lake reaches full pool status from May through August and is fed by the Nottely River as well as other creeks and streams.
Lake Nottely

Surrounded by small mountains and ridges are the crystal blue waters of Lake Nottely. Also seen from the Nottely Dam overlook located along Nottely Dam Road, is a spectacular southern view along the horizon of the ancient Blue Ridge Mountain Range. A TVA plaques tells the story of these man-made lakes.
Spring and Summer are the seasons draws the most visitors with boating, water skiing, swimming, fishing and camping, on and along its fresh crystal blue waters. Lake Nottely Dam is located at the northern end of the lake where the lake waters are the deepest and broadest. Dozens of miles of channels make up the majority of the lake's bountiful waters with quiet coves and special fishing spots. A pontoon boat trip can drift away the hours offering a leisurely journey lost to the outside world.
The lake is located in the central northwest region of Union County. The lake's most southern point begins along the outer western edge of Blairsville and ends at the dam along the northern end above the Nottely River and powerhouse.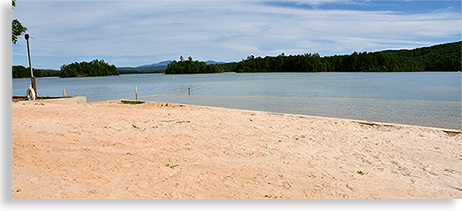 The lake is 20-miles long with 106-miles of shoreline, and has 4,180-acres of water surface at normal capacity. The dam was built in 1941 and is under the control of Tennessee Valley Authority. A large portion of the lake is bordered by the Chattahoochee National Forest, where as the shorelines are also populated with vacation homes and full time residences. The lake is ideal for watercraft recreation, swimming and fishing. Lake Nottely was constructed as a reservoir-utility lake for flood control and power generation. Campgrounds are also available along the shoreline including the popular Poteete Creek Park and Campground.
The Nottely River, local creeks, and streams, provide the majority of the waters feeding Lake Nottely. The lake was also constructed with numerous channels, which are ideal for quiet fishing holes, that anglers enjoy so much. The lake's watercraft recreation access is supported by two privately operated marinas, and several boat launches. Lake Nottely is stocked by the state of Georgia and noted for its excellent fishing opportunities. Lake fish consist of black and striped bass, walleye, rainbow trout, bass and more.
Lake Trahlyta at Vogel State Park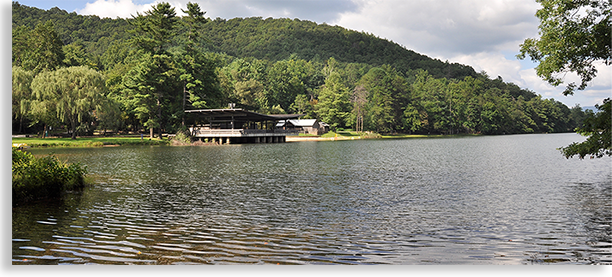 Lake Trahlyta a 22-acre lake in Vogel State Park, is located along US/19/129 at roughly 2,500 feet in elevation. Lake Trahlyta is named after the Cherokee princess Trahlyta. This mountain parkland offers a cool temperature advantage during the summer heat. Vogel State Park is considered one of the finest state parks in all of Georgia. Cradled deep within a cove along the lower northern slopes of Blood Mountain, the parkland is uniquely laid out forming a mountain atmosphere like non-other.
Vogel State Park offers access to a Visitor's Center , campsites, cottages, picnic shelters, tables and grills, restrooms, showers, and a picturesque lake stocked with trout. Licensed fishing is allowed. Lake Trahlyta's access to water recreation includes a swimming beach and paddle-boats, only non-motorized boats are allowed on the lake.
Lake Winfield Scott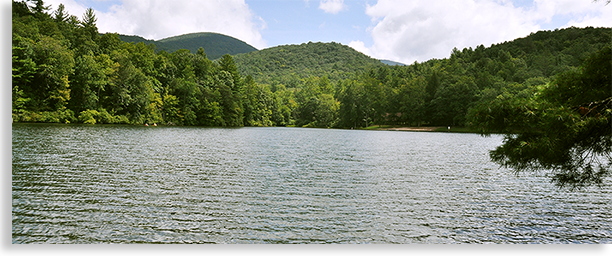 Lake Winfield Scott Recreation Area is a hidden gem of tranquil beauty whose crystal blue waters are complemented by the towering mountains reflecting off the lakes shimmering pristine waters. The 18-acre Lake Winfield Scott, is located along GA/180 along the edge of the upper valley community township of Suches. This recreation area offers fishing, hiking trails, picnicking, a swimming area, camping, and a boat launch.
Anglers will be delighted to know that the lake and local streams are stocked with rainbow trout. Only electric motor driven boats and self-propelled watercraft are allowed on the lake. There's a large pavilion overlooking the lake that is ideal for group gatherings and picnics both large and small. A hiking trail follows along the entire lake shoreline.
There are two entrances to Winfield Scott Recreation Area. The eastern parking area nearest to the dam is for day visitors, casual hikers or anglers. Up the road a piece is the main western entrance to the campground and recreation area. Located in the recreation area is an inviting swimming area, a boat launch, a pavilion, picnic tables, and other trailheads for hiking.
Dockery Lake
This lake is managed as a put-and-take trout fishery with approximately 9,000 cacheable trout stocked annually by the Georgia Game and Fish Division. The Forest Service operates a camping area adjacent to the lake. Fishing is normally limited to the regular trout season is the last Saturday in March through October 31st each year.
Wilderness Areas & Trails
Community Resources
History & Culture
Lakes, Rivers & Waterfalls
Parks & Recreation Areas
Scenic Road Trips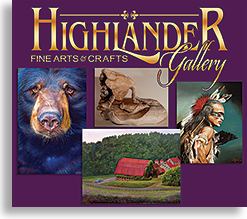 When you are visiting the Blue Ridge - Smoky Mountains, a stop by the Highlander Gallery is well worth your time. The Highlander Gallery represents some of the finest artists in the mountains. With a large assortment of Fine Art Photography and Fine Crafts as well.
Here are a sampling of the artists you will find....Anthony Abreu • Michael Bedoian • Juanita Greenspan • Linda Thompson • Tonya Fowler • Jason Fowler • Chris Jones • Les Smith • Chuck Waldroup • Joe Waldroup • Billy Reynolds • Randy Rowe • Thomas Payne •  Frances McCord • Rita Poole • Clive Poole • Marla McCormick • Don Milsaps
Wednesday - Saturday 11:00 ish - 5:00 ish
10079 Old Highway 64 • Brasstown, NC • 828.835.9982 • www.HighlanderGallery.com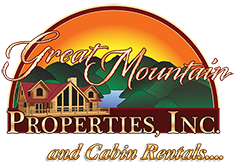 Whether you purchased your mountain home as an occasional getaway, an investment, or the destination of your future retirement, we realize the importance that it be respected as your home first and foremost.
It is our objective to provide you with both quality property management as well as a rental program to help offset some of the expense of owning a 2nd home. Through the combined knowledge of all of us at Great Mountain Cabin Rentals, we have the expertise to help you understand and create a Great Mountain Cabin Rental.
896 Green Cove Road • Brasstown, NC 28902 • 828.835.3275 • www.GreatMountainCabinRentals.com
---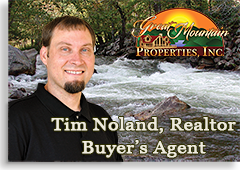 When looking to buy mountain property, you need someone that not only understands the mountains, you need someone that specifically represents you, the buyer. When you choose to work with a Buyer's Agent you are assured that you have an agent that is truly looking for your best interests, someone that will not only find what you are looking for, but someone that will negotiate the best price possible.
10886 Old Highway 64 • Brasstown, NC 28902 • 828.557.1009 •  GreatMtnRealEstate.com
---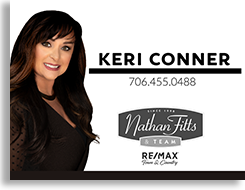 My name is Keri Conner, I have lived in these mountains all my life, and have been a successful Realtor since 2001. I know from personal experience why you want your own special place in the mountains and I know how to help you find that special place. Whether you are looking for a luxury mountain home, log cabin, a view property, river or creek property, a lake front home or property, or a large tract of mountain property, I will help you not only find the right real estate purchase, I will help you through the entire real estate process, including closing. If you are looking to sell your mountain home, to downsize or are finally ready to buy your new bigger dream home or cabin, I am the Realtor/Broker you need.
Check out our Featured Listings....
224 Blue Ridge Drive, McCaysville, GA • 706-964-6470 • RealEstateGeorgiaMountains.com
designed, produced and hosted by
The Blue Ridge Highlander logo, all photography, design, graphics, artwork, writing, digital images, etc are the
Copyright ©
of C. Wayne Dukes and Sherry Bell Dukes, 1996 to current day, except where otherwise stated. All rights reserved, reproduction, downloading, and/or duplication of any sort is strictly prohibited, all violations will be prosecuted.
Legal Policy
. If you have any questions, or comments, regarding this site,
e-mail the Highlander
.