Union County Historical Society and Historic Courthouse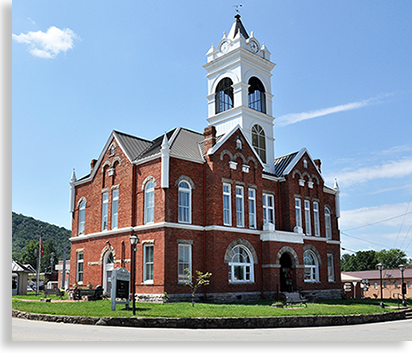 Located in the recently renovated Union County Courthouse, is the Union County Historical Museum. The historic courthouse was originally constructed in 1899 and had faced decades of needful reconstruction. Thanks to the Union County Historical Society (also located in the courthouse,) 'the old courthouse' as it has been called, has a new outlook on life due to the Society's dedicated service with preservation projects still in the works. The clock tower had been removed in 1960 and replaced with a replica in the year 2000. The original clock-face and inner workings are located on the courthouse lawn, encased in a large glass container.
The original second floor courtroom has been meticulously restored and functions as a Friday night concert venue. The Union County History Museum is located on the first floor. The historic courthouse is of the Romanesque Revival-style. A new courthouse facility and government offices have been constructed just north of the Old Courthouse, next to the Butternut Creek Golf Course.
The Union County Historical Society was established in 1976 with a mission to 'preserve and promote the history and culture of Union County.' This nonprofit organization is funded primarily through memberships and donations. The Old Courthouse History Museum, features exhibits like the renowned Margarita Morgan Miniature Collection, and America folk art by Everett Hunt. There are displays of noted Union County natives, including poet/novelist Byron Herbert Reece. There's also a
collection of Native American artifacts, exhibits of historic, educational, religious, occupational, domestic, governmental, and military objects. The historic society also offers an ever-evolving cultural and educational program.
The Historical Society takes great pride in its annual Mountain Heritage Festival, held every Labor Day weekend on the grounds of the restored 1906 Grapelle Butt Mock House, and the 1861 John Payne Cabin and Homestead, both located one block south of courthouse square. The festival includes historic reenactments, music, a blacksmith, storytellers, livestock exhibits, gold panning for the kids, concessionaires, plus art and craft vendors and other activities. Other popular events are held throughout year. Dates are available by searching the Blue Ridge Highlander's Calendar of Events and Festivals.
The Historic Courthouse Museum
1 Town Square • Blairsville, GA 30512 • 706-745-5493
open to the public from 10 am to 4 pm
Monday - Friday, January - April
Monday - Saturday, May - December
---
---