Menu
Township of Suches, Georgia
Suches is a picturesque high mountain community township lying in the upper mountainous reaches of southwestern Union County. The central township is primarily located at the junction of GA/180 and GA/60. This upper valley township is cradled below the outer eastern line of the ancient Blue Ridge Mountain Range. This secluded region appears to be way off the beaten path, yet just above the Suches valley is Woody Gap, whose overlook gazes down upon North Georgia's outer foothills and vast piedmont.
There's no downtown or shopping district located here, only a modest community, a school from kindergarten to 12th, a post office, a service station with a small convenience store, and lots of picturesque mountain country. The historic stone structure of Woody Gap School was constructed in 1941 on the historic home site and farm of Joseph Emerson Brown who moved to Union County as a boy circa 1830s.
In the heart of this majestic valley along GA/60 is the small yet beautiful Woody Lake, named after Forest Service Ranger Arthur Woody who served from 1911 to 1945. The often still waters of this modest lake reflect the mountain vista horizon to the southeast. The lake is encompassed by private property and not available for public fishing.
Suches is also home to the popular autumn season 'Indian Summer Festival. This festival is a one of a kind high-mountain festival with music, games, good eatin' vittles, plus lots of mountain-made arts and crafts.
Wilderness Areas & Trails
Community Resources
History & Culture
Lakes, Rivers & Waterfalls
Parks & Recreation Areas
Scenic Road Trips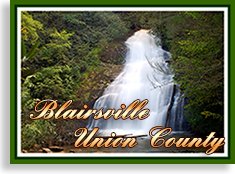 Blairsville and Union County, Georgia: Full of festivals and fun, waterfalls, mountains, syrup, and sweet memories. Spring and summer outdoor lovers will hike endless trails, see breathtaking views atop Brasstown Bald, visit rushing waterfalls, and relax on serene Lake Nottely.
129 Union County Recreation Rd • Blairsville, GA • 706.745.5789 • VisitBlairsvilleGA.com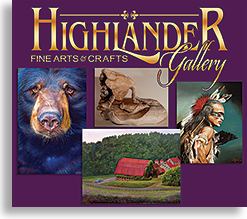 When you are visiting the Blue Ridge - Smoky Mountains, a stop by the Highlander Gallery is well worth your time. The Highlander Gallery represents some of the finest artists in the mountains. With a large assortment of Fine Art Photography and Fine Crafts as well.
Here are a sampling of the artists you will find....Anthony Abreu • John Mac Kah • Ruthanne Kah • Michael Bedoian • Keith Moore • Juanita Greenspan • Robert Levin • Tonya Fowler • Jason Fowler • Jo Kilmer • Les Smith • Chuck Waldroup • Joe Waldroup • Billy Reynolds • Bob Crisp • Randy Rowe • Thomas Payne • Sarah Long Dauchez • January Tiberius • Frances McCord • Rita Poole • Clive Poole • Richard Cranford
Wednesday - Saturday 10:00 - 5:00
10079 Old Highway 64 • Brasstown, NC • 828.835.9982 • www.HighlanderGallery.com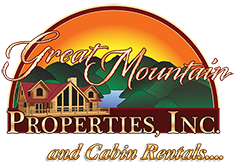 Whether you purchased your mountain home as an occasional getaway, an investment, or the destination of your future retirement, we realize the importance that it be respected as your home first and foremost.
It is our objective to provide you with both quality property management as well as a rental program to help offset some of the expense of owning a 2nd home. Through the combined knowledge of all of us at Great Mountain Cabin Rentals, we have the expertise to help you understand and create a Great Mountain Cabin Rental.
896 Green Cove Road • Brasstown, NC 28902 • 828.835.3275 • www.GreatMountainCabinRentals.com
---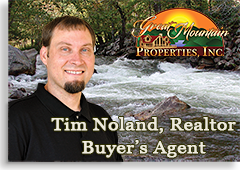 When looking to buy mountain property, you need someone that not only understands the mountains, you need someone that specifically represents you, the buyer. When you choose to work with a Buyer's Agent you are assured that you have an agent that is truly looking for your best interests, someone that will not only find what you are looking for, but someone that will negotiate the best price possible.
10950 Old Highway 64 • Brasstown, NC 28902 • 828.557.1009 •  GreatMtnRealEstate.com
---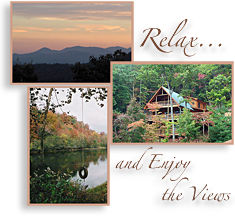 We are happy to help you with all of your real estate needs.  We offer mountain log cabins, view property, river and creek property, lake front homes and property and large tracts of North Georgia Mountain Property.   The Blue Ridge Mountains are fast becoming one of the most desired second home markets anywhere in the US. The North Georgia Area provides the beauty of the Appalachian Mountains, Toccoa and Ocoee Rivers, and Lake Blue Ridge.
224 Blue Ridge Drive, McCaysville, GA • 706-964-6470 • RealEstate-NorthGeorgia.com
designed, produced and hosted by
The Blue Ridge Highlander logo, all photography, design, graphics, artwork, writing, digital images, etc are the
Copyright ©
of C. Wayne Dukes and Sherry Bell Dukes. 1996 - 2020, except where otherwise stated. All rights reserved, reproduction, downloading, and/or duplication of any sort is strictly prohibited, all violations will be prosecuted.
Legal Policy
. If you have any questions, or comments, regarding this site,
e-mail the Highlander
.